22. Apr. 2007 Bulletin
Third Sunday of Easter
The flowers today are given to the glory of God and in loving memory of our beloved parents Josephine & Henry & nephew David by the Safay Family
OUR APPROACH TO GOD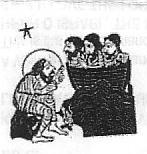 Prelude
Introit "King of Kings"
Welcome
Call to Worship: Romans 5:1 b, 2b
We have peace with God through our Lord Jesus Christ.
WE REJOICE IN OUR HOPE OF SHARING THE GLORY OF GOD.
*Hymn: 224 "Jesus Lives, and So Shall I"
Unison Prayer: Psalm 30:1-3
I WILL EXTOL THEE, O LORD, FOR THOU HAST DRAWN ME UP, AND HAST NOT LET MY FOES REJOICE OVER ME. O LORD MY GOD, I CRIED TO THEE FOR HELP, AND THOU HAST HEALED ME. O LORD, THOU HAST BROUGHT UP MY SOUL FROM SHEOL. YOU HAVE RESTORED ME TO LIFE.
Kyrie (sung)
LORD HAVE MERCY UPON US.
CHRIST HAVE MERCY UPON US.
LORD HAVE MERCY UPON US.
A Word of Assurance and The Summary of the Law (Mk 12:29b-31)
This is the first commandment:
HEAR O ISRAEL,
THE LORD OUR GOD,
THE LORD IS ONE!
THEREFORE YOU SHALL LOVE THE LORD YOUR GOD
WITH ALL YOUR HEART,
WITH ALL YOUR SOUL,
WITH ALL YOUR MIND,
AND WITH ALL YOUR STRENGTH.
This is the second commandment.
YOU SHALL LOVE YOUR NEIGHBOR AS YOURSELF.
There is no greater commandment than these.
Anthem "Because He Lives" W. Gaither
THE WORD OF GOD
*Responsive Reading: Psalm 30:4- 12
*Gloria Patri (Hymn No. 623)
GLORY BE TO THE FATHER
AND TO THE SON
AND TO THE HOLY GHOST.
AS IT WAS IN THE BEGINNING,
IS NOW AND EVER SHALL BE,
WORLD WITHOUT END, AMEN, AMEN!
The Greeting of Peace
Announcements, Children's Moment
Hymn 221 "Resurrection Canon"
Scriptures:
Epistle: Revelation 5:11-14
The Celtic Alleluia!
Gospel: John 21:1-19
Sermon by Fr. Jack Ryan
OUR RESPONSE TO GOD
Hymn 218 "I Know That My Redeemer Liveth"
*The Apostles Creed
The Offering
*Doxology (625) and Prayer
PRAISE GOD FROM ALL WHOM ALL BLESSINGS FLOW;
PRAISE GOD ALL CREATURES HERE BELOW;
PRAISE GOD ABOVE YE HEAVENLY HOSTS;
PRAISE FATHER (CREATOR), SON (CHRIST) AND HOLY GHOST.
A Time for Giving Thanks and Praise
The Prayer of the People & the Lord's Prayer
*Hymn 219 "He Rose Triumphantly"
*Benediction
*Choral Response
Postlude
*Please stand if you are able.
--
A Prayer in Spring by Robert Frost
Oh, give us pleasure in the flowers today;
And give us not to think so far away
As the uncertain harvest; keep us here
All simply in the springing of the year.
Oh, give us pleasure in the orchard white,
Like nothing else by day, like ghosts by night;
And make us happy in the happy bees,
The swarm dilating round the perfect trees.
And make us happy in the darting bird
That suddenly above the bees is heard,
The meteor that thrusts with needle bill,
And off a blossom in mid-air stands still.
For this is love and nothing else is love,
The which it is reserved for God above
To sanctify to what far ends He will,
But which it only needs that we fulfill.