28 Jan. 2007 Bulletin
4th Sunday of Epiphany
The flowers gracing the altar are given to the glory of God and in loving memory of my uncle, Henry Zeltman and friend, Leif K. Olsen by Lucille L. James.
OUR APPROACH TO GOD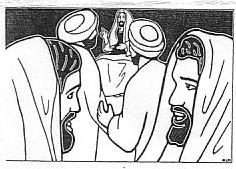 Prelude
Introit "More Love to Thee"
Welcome
Call to Worship: Psalm 119
Your word is a lamp to my feet and a light to my path!
HOW SWEET ARE WORDS TO MY TASTE, SWEETER THAN HONEY TO MY MOUTH!
The Lord exists forever; your word is firmly fixed in heaven.
YOUR FAITHFULNESS ENDURES TO ALL GENERATIONS!
*Hymn 92
"Love Divine, All Loves Excelling"
Let us be before our God in silence.
Unison Prayer:
from the book of Nehemiah:
O LORD GOD OF HEAVEN, THE GREAT AND AWESOME GOD WHO KEEPS COVENANT AND STEADFAST LOVE WITH THOSE WHO LOVE HIM AND KEEP HIS COMMANDMENTS; WE HAVE OFFENDED YOU DEEPLY, FAILING TO KEEP THE COMMANDMENTS, THE STATUES AND THE ORDINANCES THAT YOU COMMANDED YOUR SERVANT MOSES. LET YOUR EAR BE ATTENTIVE AND YOUR EYES OPEN TO HEAR THE PRAYER OF YOUR SERVANTS WHO DELIGHT IN REVERING YOUR NAME. GRANT US MERCY!
Kyrie (sung)
LORD, HAVE MERCY ON US.
CHRIST, HAVE MERCY ON US.
LORD, HAVE MERCY ON US.
A Word of Assurance and the Summary of God's Law
(Mark 12:29b-31)
This is the first commandment:
HEAR O ISRAEL,
THE LORD OUR GOD,
THE LORD IS ONE!
THEREFORE YOU SHALL LOVE THE LORD YOUR GOD
WITH ALL YOUR HEART,
WITH ALL YOUR SOUL,
WITH ALL YOUR MIND,
AND WITH ALL YOUR STRENGTH.
This is the second commandment:
YOU SHALL LOVE YOUR NEIGHBOR AS YOURSELF.
There is no greater commandment than these.
Anthem "My Jesus, I Love Thee" A. Gordon
THE WORD OF GOD
*Responsive Reading:
Psalm 71:1-19
*Gloria Patri (Hymn No. 623)
GLORY BE TO THE FATHER
AND TO THE SON
AND TO THE HOLY GHOST.
AS IT WAS IN THE BEGINNING,
IS NOW AND EVER SHALL BE,
WORLD WITHOUT END,
AMEN, AMEN!
The Greeting of Peace
Announcements
Children's Moment
Hymn 42 "Seek Ye First"
Scripture Lessons:
Jewish Scriptures:
Jeremiah 1:4-5, 17-19
Epistle:
1 Corinthians 12:31-13:13
The Celtic Allelulia!
Gospel:
Luke 4:21-30
Sermon "Namaan and the Unnamed: What they have in Common"
OUR RESPONSE TO GOD
*Hymn 423
"There Is a Balm in Gilead"
*The Offering, Doxology (625) and Prayer
PRAISE GOD FROM WHOM ALL BLESSINGS FLOW;
PRAISE GOD ALL CREATURES HERE BELOW;
PRAISE GOD ABOVE YE HEAVENLY HOSTS;
PRAISE FATHER (CREATOR), SON (CHRIST) AND HOLY GHOST. AMEN.
A Time of Giving Thanks & Praise
The Prayer of the People & the
Lord's Prayer
*Hymn 76 "O For a Thousand Tongues"
*Benediction
*Response to the Benediction
Postlude
*Please stand if you are able.