6 Jan. 2008 Bulletin
The Feast of the Epiphany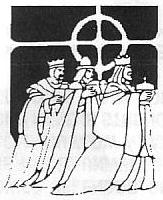 OUR APPROACH TO GOD
Prelude
Introit "Adoration" T. Fettke
Welcome and Call to Worship: Psalm 96
Give to the Lord, you family of nations.
GIVE TO THE LORD GLORY & PRAISE!
Give to the Lord the glory due his name!
BRING GIFTS, & ENTER HIS COURTS; WORSHIP THE LORD IN HOLY ATTIRE! TREMBLE BEFORE HIM, ALL THE EARTH!
*Hymn 166
"We Three Kings"
John H. Hopkins, Jr.
Let us be before our God in silence.
Unison Prayer: 1 Chronicles 29:10-13
BLEST ARE YOU FOREVER, LORD, GOD OF OUR FATHER, ISRAEL.

POWER, SPLENDOR, GREATNESS, GLORY & HONOR ARE YOURS.

THE WHOLE UNIVERSE IS YOURS. YOU ARE PEERLESS IN MAJESTY,

FROM YOU FLOW WEALTH & GLORY. YOU COMMAND ALL:

YOUR HAND IS STRENGTH, YOUR HAND MAKES STRONG.

AND SO WE THANK YOU, GOD, WE PRAISE YOUR SPLENDID NAME!
Kyrie (sung)
LORD, HAVE MERCY ON US.

CHRIST, HAVE MERCY ON US.

LORD, HAVE MERCY ON US.
A Word of Assurance and the Summary of God's Law
(Mark 12:29-31)
This is the first commandment:
HEAR O ISRAEL,

THE LORD OUR GOD,

THE LORD IS ONE!

THEREFORE YOU SHALL LOVE THE LORD YOUR GOD

WITH ALL YOUR HEART,

WITH ALL YOUR SOUL,

WITH ALL YOUR MIND,

AND WITH ALL YOUR STRENGTH.
This is the second commandment:
YOU SHALL LOVE YOUR NEIGHBOR AS YOURSELF.
There is no greater commandment than these.
Anthem "Where Is He That Is Born a King?" J.W. Peterson
THE WORD OF GOD
*Responsive Reading:
Psalm 72
*Gloria Patri (Hymn No. 623)
GLORY BE TO THE FATHER

AND TO THE SON

AND TO THE HOLY GHOST.

AS IT WAS IN THE BEGINNING,

IS NOW AND EVER SHALL BE,

WORLD WITHOUT END,
AMEN, AMEN!
The Greeting of Peace
Announcements
*Hymn 163
"As With Gladness Men of Old"
William C. Dix
Scripture Lessons:
Jewish Scriptures:
Isaiah 60:1-6
Epistle:
Ephesians 3:1-12
The Celtic Alleluia
Gospel:
Matthew 2:1-12
Communion Meditation
OUR RESPONSE TO GOD
*The Offering, Doxology (625) and Prayer
PRAISE GOD FROM WHOM ALL BLESSINGS FLOW;

PRAISE GOD ALL CREATURES HERE BELOW;
PRAISE GOD ABOVE YE HEAVENLY HOSTS;

PRAISE FATHER (CREATOR), SON (CHRIST) AND HOLY GHOST. AMEN.
The Invitation to the Table
*Hymn 137
"What Child Is This?"
William C. Dix
The Communion Prayer
The Breaking of the Bread
The Great Thanksgiving & the Lord's Prayer
*Hymn 138
"Go Tell It On the Mountain"
John W. Work, Jr.
*Benediction
*Choral Response
Postlude
*Indicates please stand if you are able.
Join us for our annual congregational meeting right after worship this morning. Stay and share your thoughts, concerns and dreams with us. U are the CH_RCH!

Join us next Saturday at 10:30 AM for our EPIPHANIES RETREAT! We are meeting here at New Utrecht and this exciting spiritual journey is open to everyone, neighbors, family friends and the general public. Bring a brown bag lunch to share. We will conclude with the Eucharist at 2 PM. Ask yourself: How and where do I encounter God in my life and in my world? How I can help others experience God?

Next Sunday is Consistory immediately following our worship!