30 Dec. 2007 Bulletin
First Sunday of Christmastide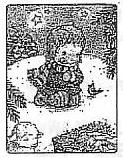 OUR APPROACH TO GOD
Prelude
Introit "What Can I Give Him?"
The Lighting of the Christ Candle - Divine Office
This day true peace has come down to us from heaven,
THIS DAY THE HEAVENS DRIP HONEY UPON THE ENTIRE WORLD!
This day brought the day of new redemption,
OF THE DELIVERANCE ANNOUNCED OF OLD, OF ETERNAL HAPPINESS!
Let us this day with delight in the Lord
AND LET OUR HEARTS BE FILLED WITH REJOICING,
For eternal salvation has appeared on the earth,
LET ALL THE EARTH BOW TO YOU & SING TO YOU, LET ALL SING YOUR NAME MOST HIGH! ALLELUIA! ALLELUIA!
*Hymn 567
"Another Year is Dawning"
Let us be before our God in silence.
Opening Prayer - John Wallace Suter
SEND, O GOD, INTO THE DARKNESS OF THIS TROUBLED WORLD, THE LIGHT OF YOUR SON: LET THE STAR OF YOUR HOPE TOUCH THE MINDS OF ALL PEOPLE WITH THE BRIGHT BEAMS OF MERCY AND TRUTH; AND SO DIRECT OUR STEPS THAT WE MAY ALWAYS WALK IN THE WAY REVEALED TO US, AS THE SHEPHERDS OF BETHLEHEM WALKED WITH JOY TO THE MANGER WHERE HE DWELT.
Kyrie (sung)
LORD, HAVE MERCY ON US.

CHRIST, HAVE MERCY ON US.

LORD, HAVE MERCY ON US.
A Word of Assurance
The Summary of the Law
(Mark 12:29-31)
This is the first commandment:
HEAR O ISRAEL,

THE LORD OUR GOD,

THE LORD IS ONE!

THEREFORE YOU SHALL LOVE THE LORD YOUR GOD

WITH ALL YOUR HEART,

WITH ALL YOUR SOUL,

WITH ALL YOUR MIND,

AND WITH ALL YOUR STRENGTH.
This is the second commandment:
YOU SHALL LOVE YOUR NEIGHBOR AS YOURSELF.
There is no greater commandment than these.
Anthem "In the Lonely Midnight" J. Howard
THE WORD OF GOD
*Responsive Reading:
John 1:1-14
*Gloria Patri (Hymn No. 623)
GLORY BE TO THE FATHER

AND TO THE SON

AND TO THE HOLY GHOST.

AS IT WAS IN THE BEGINNING,

IS NOW AND EVER SHALL BE,

WORLD WITHOUT END,
AMEN, AMEN!
The Greeting of Peace
Announcements
Children's Moment
*Hymn 152
"I Heard the Bells on Christmas Day"
Scripture Lessons:
Jewish Scriptures:
Isaiah 61:10-62:3
Epistle:
Hebrews 1:1-11
The Celtic Alleluia!
Gospel:
Luke 2:15-20
Sermon
OUR RESPONSE TO GOD
*Hymn 141
"O Little Town of Bethlehem"
The Offering
*Doxology (625) and Prayer
PRAISE GOD FROM WHOM ALL BLESSINGS FLOW;

PRAISE GOD ALL CREATURES HERE BELOW;

PRAISE GOD ABOVE YE HEAVENLY HOSTS;

PRAISE FATHER (CREATOR), SON (CHRIST) AND HOLY GHOST. AMEN.
Giving Thanks and Praise to God
The Prayer of the People & the
Lord's Prayer
*Hymn 133
"Hark the Herald Angels Sing"
*Benediction
Postlude
*Please stand if you are able.