24 June 2007 Bulletin
The Sacrament of the Lord's Supper
A consistory meeting follows service this morning.
There will be NO SERVICE next Sunday July 1st.
Summer services will begin on Sunday, July 8th.
We have some wonderful preachers joining us
for the summer months — come hear them!
The flowers gracing the sanctuary are given to the glory of God and in loving memory of
my beloved husband Hank Erickson, on our wedding anniversary by Fran and in loving memory of
Bill Nicotra by his wife Marie and his many friends at New Utrecht.
OUR APPROACH TO GOD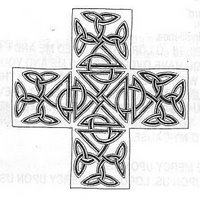 Prelude
Introit
Welcome and Call to Worship: Psalm 117
Praise the Lord all you nations!
EXTOL GOD ALL YOU PEOPLES!
For great is the steadfast love of God toward us,
AND GOD'S FAITHFULNESS ENDURES FOREVER! PRAISE GOD!
*Hymn: 8 "Praise to the Lord"
Let us be before our God in silence.
Unison Prayer: Jeremiah 20:7ff O LORD, YOU DUPED ME AND I LET MYSELF BE DUPED. YOU HAVE OVERPOWERED ME AND YOU HAVE PREVAILED...YOU ARE WITH ME LIKE A DREAD WARRIOR; THEREFORE MY PERSECUTORS WILL STUMBLE, AND THEY WILL NOT PREVAIL...O LORD OF HOSTS, YOU TEST THE RIGHTEOUS, YOU SEE THE HEART AND THE MIND. LET ME SEE YOUR RETRIBUTION UPON THEM, FOR TO YOU I HAVE COMMITTED MY CAUSE.
Kyrie (sung)
LORD HAVE MERCY UPON US.
CHRIST HAVE MERCY UPON US.
LORD HAVE MERCY UPON US.
A Word of Assurance and The Summary of the Law (Mark 12:29b-31)
This is the first commandment:
HEAR O ISRAEL,
THE LORD OUR GOD,
THE LORD IS ONE!
THEREFORE YOU SHALL LOVE THE LORD YOUR GOD
WITH ALL YOUR HEART,
WITH ALL YOUR SOUL,
WITH ALL YOUR MIND,
AND WITH ALL YOUR STRENGTH.
This is the second commandment.
YOU SHALL LOVE YOUR NEIGHBOR AS YOURSELF.
There is no greater commandment than these.
Anthem
THE WORD OF GOD
*Responsive Reading: Psalm 42
*GIoria Patri (Hymn No. 623)
GLORY BE TO THE FATHER
AND TO THE SON
AND TO THE HOLY GHOST.
AS IT WAS IN THE BEGINNING,
IS NOW AND EVER SHALL BE,
WORLD WITHOUT END, AMEN, AMEN!
The Greeting of Peace & Announcements & Children's Moment
*Hymn "Ubi Caritas"
Ubi caritas
et amor,
ubi caritas
Deus ibi est.
Jewish Scriptures: 1 Kings 19:1-15a
Epistle: Galatians 3:23-29
Gospel: Luke 8:26-39
The Communion Meditation
OUR RESPONSE TO GOD
*Hymn 497 "Near to the Heart of God"
The Offering and *Doxology (625) and Prayer
PRAISE GOD FROM ALL WHOM ALL BLESSINGS FLOW;
PRAISE GOD ALL CREATURES HERE BELOW;
PRAISE GOD ABOVE YE HEAVENLY HOSTS;
PRAISE FATHER (CREATOR), SON (CHRIST) AND HOLY GHOST.
The Invitation to the Table
Hymn BB 354 "One Bread, One Body" vs. 1
The Breaking of the Bread
The Great Thanksgiving
*Hymn BB 152 "Jesu, Jesu"
*Benediction
*Response to the Benediction
Postlude
*Please stand if you are able.