Brooklyn Church Opens Its Gates to 'GodTalk' - 'Rest, Relaxation and Peaceful Conversation'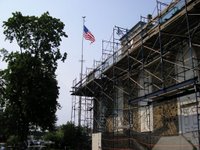 "We don't know if it will work," says Rose Lood, a longtime church member and leader, "it's an experiment we're going to try."
Every Wednesday night at 8 p.m. on the large church front lawn at 84th St. and 18th Ave. for seven weeks, from July 11 to August 22, "we're inviting the public to stop by for 'GodTalk'," Mrs. Lood says. "We're open to everyone."
Chairs will be set out in the hope that people who hear about the one-hour get-togethers in advance or are just passing by on 18th Ave. will, as Mrs. Lood says, "stop in for rest, relaxation and peaceful conversation."
"We have a garden setting, an oasis in Brooklyn," Mrs. Lood says of the large historic New Utrecht church complex where the sanctuary building, which dates from 1828, is undergoing a $2 million repair and restoration. "While the work is going on," she said, "it occurred to a few of us that we ought to make better use of our beautiful, park-like setting, with all its magnificent trees and grass."

"In fact," she added, "we came to the conclusion that it was sinful that we are not using our beautiful grounds more than we are. After all, a church is more than a building!"
Topics for the GodTalk have not been chosen, she said. "We'll have to see the direction we'll take after the first Wednesday," Mrs. Lood explained. "There will be no pressure on anyone. Especially in these stressful times, we just want to give people a place to come on a summer evening for gentle, thoughtful discussions about God, a chance in the middle of the week to reflect on their lives in relation to God - to 'revitalize and recharge their batteries'."
She added: "It might even be better than a gym!"
GodTalk will be held in the church's nearby Parish House in the event of rain. The New Utrecht Reformed Church, a member of the
Reformed Church in America (RCA),
was founded in 1677. The pastor is the Rev. Terry Troia, executive director of
Project Hospitality,
an organization that assists the needy, based in Staten Island.
###
bhpr EspeciallyforChurches services are donated. July '07