15 June 2008 Bulletin
Happy Father's Day!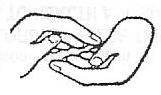 OUR APPROACH TO GOD
Prelude
Introit "This is the Day"
Welcome and Call to Worship: Psalm 100
Make a joyful noise to the Lord, all the earth!
WORSHIP THE LORD WITH GLADNESS!
COME INTO GOD'S PRESENCE WITH SINGING!
Know that the Lord is God.
IT IS GOD WHO MADE US; WE ARE GOD'S.
We are God's people & the sheep of God's pasture.
ENTER GOD'S GATES WITH THANKSGIVING,
And God's courts with praise.
GIVE THANKS TO GOD, BLESS GOD'S NAME!
For the Lord is good;
GOD'S STEADFAST LOVE ENDURES FOREVER
AND GOD'S FAITHFULNESS TO ALL GENERATIONS!
*Hymn 279 "Faith of Our Fathers"
Let us be before our God in silence.
Unison Prayer: Isaiah 38:16-19
O LORD, BY THESE THINGS PEOPLE LIVE, AND IN THESE IS THE LIFE OF MY SPIRIT. RESTORE ME TO HEALTH AND MAKE ME LIVE. YOU HAVE HELD BACK MY LIFE FROM THE PIT OF DESTRUCTION. YOU HAVE CAST ALL MY SINS BEHIND YOUR BACK. FOR SHEOL CANNOT THANK YOU. DEATH CANNOT PRAISE YOU. THOSE WHO GO DOWN TO THE PIT CANNOT HOPE FOR YOUR FAITHFULNESS. THE LIVING, THEY THANK YOU; AS I DO THIS DAY; FATHERS MAKE KNOWN TO CHILDREN YOUR FAITHFULNESS.
Kyrie (sung)
LORD HAVE MERCY UPON US.
CHRIST HAVE MERCY UPON US.
LORD HAVE MERCY UPON US.
A Word of Assurance and the Summary of the Law (Mk 12:29-31)
This is the first commandment:
HEAR O ISRAEL,
THE LORD OUR GOD,
THE LORD IS ONE!
THEREFORE YOU SHALL LOVE THE LORD YOUR GOD
WITH ALL YOUR HEART,
WITH ALL YOUR SOUL,
WITH ALL YOUR MIND,
AND WITH ALL YOUR STRENGTH.
This is the second commandment.
YOU SHALL LOVE YOUR NEIGHBOR AS YOURSELF.
There is no greater commandment than these.
Anthem "Onward, Christian Soldiers"
THE WORD OF GOD
*Responsive Reading: Psalm 118:1-14
*Gloria Patri (Hymn No. 623)
GLORY BE TO THE FATHER
AND TO THE SON
AND TO THE HOLY GHOST.
AS IT WAS IN THE BEGINNING,
IS NOW AND EVER SHALL BE,
WORLD WITHOUT END, AMEN, AMEN!
The Greeting of Peace
Announcements and Children's Moment
Hymn 265 "Father, I Adore You"
Jewish Scriptures: Exodus 19:2-6a
Epistle: Romans 5:6-11
*The Celtic Alleluia!
Gospel: Matthew 9:36-10:8
Sermon
OUR RESPONSE TO GOD
*Hymn 43 "Great is Thy Faithfulness"
The Offering *Doxology (625) and Prayer
PRAISE GOD FROM ALL WHOM ALL BLESSINGS FLOW;
PRAISE GOD ALL CREATURES HERE BELOW;
PRAISE GOD ABOVE YE HEAVENLY HOSTS;
PRAISE FATHER (CREATOR), SON (CHRIST) AND HOLY GHOST.
A Time of Giving Thanks & Praise
The Prayer of the People & the Lord's Prayer
* Hymn 58 "This is My Father's World"
*Response to the Benediction
Postlude
*Please stand if you are able.
The flowers gracing the altar are given to the glory of God in loving memory of my mother Phyllis Muir by the Giardina and Capuano families. Also in loving memory of our beloved father, Henry, grandfathers Joseph Safay and Antonio Costarella by their family.