4 May 2008 Bulletin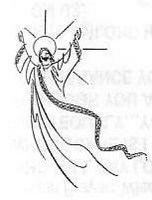 Ascension Sunday

OUR APPROACH TO GOD
Prelude
Introit "Jesus Shall Reign"
Welcome
*Call to Worship: Psalm 97
The heavens proclaim God's righteousness;
AND ALL THE PEOPLES BEHOLD GOD'S GLORY.

For You, O Lord, are most high over all the earth;
YOU ARE EXALTED FAR ABOVE ALL GODS.

Rejoice in the Lord, O you righteous,
AND GIVE THANKS TO GOD'S HOLY NAME!

*Hymn 97 "All Hail the Power of Jesus' Name"
Let us be seated and be before our God in silence.
Unison Prayer:
Wisdom 12:12a, 13, 15, 16, 18
WHO WILL SAY, LORD, "WHAT HAVE YOU DONE?" FOR THERE IS NOT ANY GOD BESIDES YOU WHOSE CARE IS FOR ALL PEOPLE...YOU ARE RIGHTEOUS AND YOU RULE ALL THINGS RIGHTEOUSLY...YOUR STRENGTH IS THE SOURCE OF YOUR RIGHTEOUSNESS...AND ALTHOUGH YOU ARE SOVEREIGN IN STRENGTH, YOU JUDGE WITH MILDNESS, AND WITH GREAT FORBEARANCE YOU GOVERN US.
Kyrie (sung)
LORD, HAVE MERCY ON US.
CHRIST, HAVE MERCY ON US.
LORD, HAVE MERCY ON US.

A Word of Assurance: Psalm 97:10, 11 and The Summary of the Law
(Mk 12:29-31)
This is the first commandment:
HEAR O ISRAEL,
THE LORD OUR GOD,
THE LORD IS ONE!
THEREFORE
YOU SHALL LOVE THE LORD YOUR GOD
WITH ALL YOUR HEART,
WITH ALL YOUR SOUL,
WITH ALL YOUR MIND,
AND WITH ALL YOUR STRENGTH.
This is the second commandment:
YOU SHALL LOVE YOUR NEIGHBOR AS YOURSELF.

There is no greater commandment than these.
Anthem "Alleluia! Sing to Jesus!" R. Prichard
THE WORD OF GOD
*Responsive Reading:
Psalm 47:2-9
*Gloria Patri (Hymn No. 623)
GLORY BE TO THE FATHER
AND TO THE SON
AND TO THE HOLY GHOST.
AS IT WAS IN THE BEGINNING,
IS NOW AND EVER SHALL BE,
WORLD WITHOUT END,
AMEN, AMEN!

The Greeting of Peace
Announcements and Children's Moment
*Hymn 206 "There is a Redeemer"
Scripture Lessons:
First Reading:
Acts 1:1-11
Epistle:
Ephesians 1:15-23
The Celtic Alleluia
Gospel:
Matthew 28:16-20
Communion Meditation
OUR RESPONSE TO GOD
The Offering, Doxology (625) and Prayer
PRAISE GOD FROM WHOM ALL BLESSINGS FLOW;
PRAISE GOD ALL CREATURES HERE BELOW;
PRAISE GOD ABOVE YE HEAVENLY HOSTS;
PRAISE FATHER (CREATOR), SON (CHRIST) AND HOLY GHOST.
AMEN.

The Invitation to the Table
*Hymn 88 "Fairest Lord Jesus"
The Breaking of the Bread
Thanksgiving Prayer & the Lord's Prayer

*Hymn insert "Hail the Day that Sees Christ Rise"
*Benediction
*Choral Response
Postlude
*Indicates please stand if you are able.
The flowers gracing the altar are given to the glory of God and in loving memory of our beloved Josephine Costarella-Safay's fifth anniversary in heaven with our Lord & Savior, Jesus Christ, by her family.
Please join us next week as we celebrate the gift of motherhood with all our women worshippers!
Consistory members: Join us for consistory at 1 PM today. Thank you.