25 May 2008 Bulletin
Memorial Day Commemoration
We welcome in a spirit of silence as the prelude begins our service.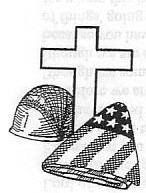 OUR APPROACH TO GOD
Prelude
Introit "If My People's Hearts are Humbled"
Welcome
Call to Worship: Psalm 97
The heavens proclaim God's righteousness;
AND ALL THE PEOPLES BEHOLD GOD'S GLORY.
For You, O Lord, are most high over all the earth;
YOU ARE EXALTED FAR ABOVE ALL GODS.
Rejoice in the Lord, O you righteous,
AND GIVE THANKS TO GOD'S HOLY NAME!
*Hymn 573 "God of Our Fathers"
Let us be before our God in silence.
Unison Prayer:
Eternal God,
Creator of years, of centuries,
Lord of whatever is beyond time,
Maker of all species and master of all history –
How shall we speak to you
from our smallness and inconsequence?
Except that you have called us to worship you
in spirit and in truth;
You have dignified us with loves and loyalties;
You have lifted us up with your loving kindnesses.
Therefore we are bold to come before you without groveling
[though we sometimes feel that low]
and without fear
[though we are often anxious].
We sing with spirit and pray with courage
because you have dignified us;
You have redeemed us from the aimlessness
of things' going meaninglessly well.
God, lift the hearts of those
for whom this holiday is not just diversion,
but painful memory and continued deprivation.
We remember with compassion those who have died
serving their countries
in the futility of combat.
There is none of us but must come to bereavement and separation,
when all the answers we are offered
fail the question death asks of each of us.
We believe that you will provide for us
as others have been provided with the fulfillment of
"Blessed are those who mourn, for they shall be comforted."
Kyrie (sung)
LORD, HAVE MERCY ON US.
CHRIST, HAVE MERCY ON US.
LORD, HAVE MERCY ON US.
A Word of Assurance
The Summary of the Law
(Mark 12:29-31)
This is the first commandment:
HEAR O ISRAEL,
THE LORD OUR GOD,
THE LORD IS ONE!
THEREFORE YOU SHALL LOVE THE LORD YOUR GOD
WITH ALL YOUR HEART,
WITH ALL YOUR SOUL,
WITH ALL YOUR MIND,
AND WITH ALL YOUR STRENGTH.
This is the second commandment:
YOU SHALL LOVE YOUR NEIGHBOR AS YOURSELF.
There is no greater commandment than these.
Anthem: "We Praise Thee O God Our Redeemer"
THE WORD OF GOD
*Responsive Reading: (insert)
Memorial Day Poem
*Gloria Patri (Hymn No. 623)
GLORY BE TO THE FATHER
AND TO THE SON
AND TO THE HOLY GHOST.
AS IT WAS IN THE BEGINNING,
IS NOW AND EVER SHALL BE,
WORLD WITHOUT END,
AMEN, AMEN!
The Greeting of Peace
Announcements
Children's Moment
Scripture Lessons:
Acts of the Apostles 1:15-17, 21-26
Epistle:
1 John 5:9-13
*The Celtic Alleluia!
Gospel:
John 3:11-17
Sermon "State of Grace" Rev. Robert Peterson, preaching
OUR RESPONSE TO GOD
*Hymn
"This is My Song"
*The Offering
*Doxology (625) and Prayer
PRAISE GOD FROM WHOM ALL BLESSINGS FLOW;
PRAISE GOD ALL CREATURES HERE BELOW;
PRAISE GOD ABOVE YE HEAVENLY HOSTS;
PRAISE FATHER (CREATOR), SON (CHRIST) AND HOLY GHOST. AMEN.
A Time of Giving Thanks & Praise
The Prayer of the People & the
Lord's Prayer
*Hymn 569
"Battle Hymn of the Republic"
*Benediction
*Choral Response
Postlude
*Please stand if you are able.
The flowers gracing the sanctuary are given to the glory of God and in loving memory of all the soldiers fallen in the current wars of Afghanistan and Iraq. God grant mercy on their souls and return the living safely home!