18 May 2008 Bulletin
Trinity Sunday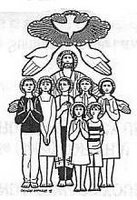 OUR APPROACH TO GOD
Prelude
Introit "Praise Ye the Triune God"
Welcome and Call to Worship: Isaiah 6:3b, 5
Holy, Holy, Holy is the Lord of hosts;
THE WHOLE EARTH IS FULL OF GOD'S GLORY!
— Woe is me! I am lost, for I am a person of unclean lips and I live among a people of unclean lips;
YET MY EYES HAVE SEEN THE KING, THE LORD OF HOSTS!
*Hymn 267 "Come Thou Almighty King"
Let us be before our God in silence.
Unison Prayer: Psalm 28
TO YOU, O LORD, I CALL; MY ROCK, DO NOT REFUSE TO HEAR ME. HEAR THE VOICE OF MY SUPPLICATION, AS I CRY TO YOU FOR HELP, AS I LIFT MY HANDS TOWARD YOUR MOST HOLY SANCTUARY.
Kyrie (sung)
LORD HAVE MERCY UPON US.
CHRIST HAVE MERCY UPON US.
LORD HAVE MERCY UPON US.
A Word of Assurance and The Summary of the Law
(Mark 12:29-31)
This is the first commandment:
HEAR O ISRAEL,
THE LORD OUR GOD,
THE LORD IS ONE!
THEREFORE YOU SHALL LOVE THE LORD YOUR GOD
WITH ALL YOUR HEART,
WITH ALL YOUR SOUL,
WITH ALL YOUR MIND,
AND WITH ALL YOUR STRENGTH.
This is the second commandment.
YOU SHALL LOVE YOUR NEIGHBOR AS
YOURSELF.
There is no greater commandment than these.
Anthem "Holy, Holy, Holy" J. Dykes
THE WORD OF GOD
*Responsive Reading:
Psalm 8
*Gloria Patri (Hymn No. 623)
GLORY BE TO THE FATHER
AND TO THE SON
AND TO THE HOLY GHOST.
AS IT WAS IN THE BEGINNING,
IS NOW AND EVER SHALL BE,
WORLD WITHOUT END, AMEN, AMEN!
The Greeting of Peace
Announcements & Children's Moment
*Hymn 265 "Father, I Adore You"
Jewish Scriptures:
Exodus 34:1-9
Epistle:
2 Corinthians 13:11-13
The Celtic Alleluia!
Gospel:
John 17:1-13
Sermon
OUR RESPONSE TO GOD
Hymn 281 "We Are One in the Bond of Love"
*The Offering Doxology (625) and Prayer
PRAISE GOD FROM ALL WHOM ALL BLESSINGS FLOW;
PRAISE GOD ALL CREATURES HERE BELOW;
PRAISE GOD ABOVE YE HEAVENLY HOSTS;
PRAISE FATHER (CREATOR), SON (CHRIST) AND HOLY GHOST.
A Time of Giving Thanks and Praise
The Prayer of the People and the
Lord's Prayer
*Hymn 12 "Holy God, We Praise Thy Name"
Benediction
*Response to the Benediction
Postlude
*Please stand if you are able.
The flowers gracing the sanctuary this morning are given to the glory of God and in loving memory of Charles B. Lood from Rose and Susan