Dear New Utrecht Family,

I will be away most weekends this summer to rest, pray and renew myself for our church work come this fall. During my time away, Fr. Jack Ryan will handle any pastoral needs. Please contact Rose Lood, Chair of our Deacon Board at (718) 745-1269 if you need pastoral assistance.

May you and your families be safe. Please pray for peace!

All my love,
Terry
---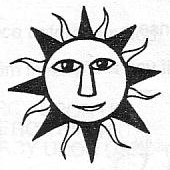 The Gift of God's Summer
Praise God for the gift of summer
The strength and warmth of the wind;
For the breadth of the sky above us
For the peace that the heart finds within.

Praise God for cool streams and clean water
That refreshes and renews each child;
For forests deep, through which we trod
And the coming home of mercy mild.

Praise God for fields of wildflowers,
The deer at dusk, the bee's busy day
For the mountains, the rivers, the sea and the sand,
God's path for serenity's way.

Praise God for back porch barbeques,
The dribble of melon upon our face,
For the shade of the tree, for family and friends,
For the Spirit we find everyplace.

And as the heat turns into cool evening,
And as the summer sun fades into the fall,
Prepare to give thanks to God for the harvest
With the promise of plenty for all.