The Invitation to the Table
I was hungry and you gave me food, I was thirsty and you gave me drink.
I WAS A STRANGER AND YOU WELCOMED ME, I WAS NAKED AND YOU CLOTHED ME.
I was sick and you visited me, I was in prison and you came to me.
HERE IS THE BREAD OF LIFE, LET ALL WHO HUNGER COME AND EAT.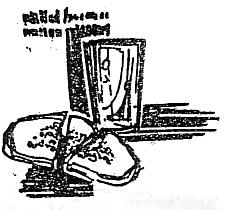 Here is the fruit of the vine, pressed and poured out for us. Let all who thirst come and drink.
WE COME TO THIS SACRED TABLE TO BREAK BREAD, TO MAKE PEACE, TO BE HEALED AND MADE WHOLE WITH OURSELVES -- AND ONE WITH GOD.
We come not because we are fulfilled, but because in our emptiness we stand in need of God's mercy and assurance.
WE COME NOT TO EXPRESS AN OPINION BUT TO SEEK A PRESENCE AND TO PRAY FOR A SPIRIT. MAY WE NEVER PRAISE GOD WITH OUR MOUTHS WHILE DENYING BY OUR ACTIONS THE LOVE THAT IS OUR COMMON SPEECH.
Come to this table, then, sisters and brothers, as you are. Partake and share.
THIS TABLE IS PREPARED FOR YOU AND ME THAT WE MIGHT AGAIN KNOW THAT GOD HAS COME TO US, SHARED OUR COMMON LOT AND INVITED US TO JOIN THE PEOPLE OF GOD'S NEW AGE. WE ARE WORTHY. WE ARE WELCOMED. ALL ARE WELCOMED!
Robert Eller-Issac & UCC Book of Worship
The Preparation of the Bread and Cup
The Lord be with you.
AND ALSO WITH YOU.
Lift up your hearts!
WE LIFT THEM UP TO THE LORD.
Let us give thanks to the Lord our God.
IT IS RIGHT TO GIVE THANKS AND PRAISE!
In the beginning, Your spirit moved over the face of the earth, giving birth to the fullness of creation, earth and sky, mountain and river, tall grain and good fruit, all creatures great and small.
YOU FASHIONED US FROM THE EARTH AS A POTTER MOLDS HIS CLAY. YOU GAVE US PARADISE AND WHEN WE WALKED AWAY, YOU PURSUED US, WITH YOUR PROPHETS AND TEACHERS THROUGHOUT THE HISTORY OF ISRAEL. WHEN WE WERE ENSLAVED OR ENSLAVED OURSELVES, YOU BROKE FREE OUR FETTERS, YOU LED US OUT OF BONDAGE. WHEN WE HUNGERED IN OUR JOURNEY, YOU FED US MANNA IN THE WILDERNESS, A PORTION SUFFICIENT FOR GENERATIONS TO FOLLOW, OF WHICH WE PARTAKE IN TODAY.
You sealed a covenant to bind us together. You commanded the people to feed the poor, to welcome the stranger, to care for the widow and orphan. You came to us as Elijah the prophet to herald the coming of the Messiah. Elijah came as a stranger who hungered for bread.
IN THE FULLNESS OF TIME, GOD SENT THE ONE WHOM WE CALL JESUS. SON OF MARY AND SON OF JOSEPH: ALSO CALLED SON OF GOD. A CARPENTER BY TRADE, HE WAS BAPTIZED IN HIS ADULT YEARS AT THE RIVER JORDAN BY THE ONE NAMED JOHN.
The spirit of the Lord came upon Jesus because he was chosen by God to bring good news to the poor, to proclaim liberation to the captives, recovery of sight to the blind; to set free the oppressed and to announce a year of favor of the Lord.
JESUS TAUGHT IN THE SYNAGOGUE. HE PREACHED TO THE PEOPLE. HE PROCLAIMED THE COMING OF GOD'S REIGN. JESUS HEALED THE SICK. JESUS FED THE HUNGRY AND SHARED TABLE FELLOWSHIP WITH PROSTITUTES AND TAX COLLECTORS AND OTHER OUTCASTS: A GROUP OF WOMEN FOLLOWED HIM. JESUS CONFRONTED EVIL AND WAS ARRESTED FOR TREASON BY THE ROMAN OCCUPIERS. HE WAS BEATEN, HUMILIATED, RECEIVED A MOCKERY OF A TRIAL AND WAS EXECUTED BY CRUCIFIXION ON A CROSS.
We acknowledge our trust in a God who so loved Jesus, that God raised Jesus from the dead. We wait in joyful hope for his return and for the fullness of the reign of righteousness which Jesus proclaimed. Strengthened by Jesus' mission and message, united with Christ in his suffering and death, and trusting in the power of God to triumph over all evil, we proclaim the mystery of our faith:
Refrain: Marty Haugen
We remember how you loved us to your death,
and still we celebrate, for you are with us here;
And we believe that we will see you when you come,
in your glory, Lord,
we remember,
we celebrate,
we believe.
Send your Holy Spirit upon us, we pray, that the bread which we break and the cup which we bless may be for us the communion of the body and blood of Christ. Grant that, being joined together in Christ, we may be the gift of Christ for one another, light for the darkness of this world, manna in the wilderness, bread for the journey of our lives.
AND AS THIS GRAIN HAS BEEN GATHERED FROM MANY FIELDS INTO ONE BREAD AND THIS FRUIT FROM MANY HILLS INTO ONE CUP, GRANT, O LORD, THAT ALL YOUR PEOPLE MAY SOON BE GATHERED AS ONE FROM THE ENDS OF THE EARTH.
The Breaking of the Bread
The Thanksgiving Prayer
And so we remember, this Jesus, born homeless, in a stable, a poor peasant and itinerant preacher who proclaimed God's reign, who raised up the poor and outcast and who suffered and was executed by being nailed to a cross. By whose great love, God raised up on the third day.
WE WORK TODAY IN PREPARATION FOR HIS RETURN, WHEN WE WILL GREET CHRIST FACE TO FACE, WHEN JUSTICE WILL FLOW LIKE WATER FROM THE MOUNTAIN; WHEN NO ONE WILL GO HUNGRY, WHEN ALL PEOPLE WILL BE GATHERED AROUND THE TABLE AND GOD'S HOUSE MADE FULL. UNTIL THAT DAY, GIVE US GRACE, LORD, THAT IN EVERYTHING WE YIELD OURSELVES, OUR WILL AND OUR WORK AS A THANKS OFFERING TO YOU.
The minister raises the prayers of the people now, followed by the Lord's Prayer:
OUR FATHER, WHO ART IN HEAVEN, HALLOWED BE THY NAME. THY KINGDOM COME. THY WILL BE DONE ON EARTH, AS IT IS IN HEAVEN. GIVE US THIS DAY OUR DAILY BREAD. AND FORGIVE US OUR DEBTS, AS WE FORGIVE OUR DEBTORS. AND LEAD US NOT INTO TEMPTATION, BUT DELIVER US FROM EVIL: FOR THINE IS THE KINGDOM, AND THE POWER, AND THE GLORY, FOREVER AND EVER. AMEN.