14 Dec. 2008 Bulletin
Third Sunday in Advent
The poinsettias gracing our altar in celebration of our Lord and Savior Jesus Christ, and in memory of family and loved ones of our historic and beloved church! Your donations are given to the Christmas Restoration Fund in lieu of fresh poinsettias this year.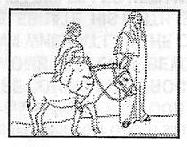 OUR APPROACH TO GOD
Prelude
Introit "Come Thou Long Expected Jesus"
Welcome
Blessing of the Gifts
The Lighting of the 3rd Advent Candle
- John Henry Cardinal Newman
May each Christmas, as it comes,
FIND US MORE AND MORE LIKE HIM.
Who at this time became a little child,
FOR OUR SAKE.
More simple-minded,
MORE HUMBLE.
More affectionate,
MORE RESIGNED.
More happy,
MORE FULL OF GOD!
*Hymn "Hail to the Brightness of Zion's Glad Morning!"
Let us be before our God in silence.
Unison Prayer:
FATHER OF OUR LORD JESUS, EVER FAITHFUL TO YOUR PROMISES, YOUR SON'S FUTURE COMING WAS PROCLAIMED BY ALL THE PROPHETS. THE VIRGIN MOTHER BORE HIM IN HER WOMB WITH LOVE BEYOND ALL TELLING. JOHN THE BAPTIST WAS HIS HERALD & MADE HIM KNOWN WHEN AT LAST HE CAME. IN HIS LOVE CHRIST HAS FILLED US WITH JOY AS WE PREPARE TO CELEBRATE HIS BIRTH, SO THAT WHEN HE COMES HE MAY FIND US WATCHING IN PRAYER, OUR HEARTS FILLED WITH WONDER AND PRAISE.
Kyrie (sung)
LORD, HAVE MERCY ON US.
CHRIST, HAVE MERCY ON US.
LORD, HAVE MERCY ON US.
A Word of Assurance
Anthem "The Birthday of a King"
THE WORD OF GOD
*Responsive Reading:
Luke 1:46-55
*Gloria Patri (Hymn No. 623)
GLORY BE TO THE FATHER
AND TO THE SON
AND TO THE HOLY GHOST.
AS IT WAS IN THE BEGINNING,
IS NOW AND EVER SHALL BE,
WORLD WITHOUT END,
AMEN, AMEN!
The Greeting of Peace
Announcements
Children's Moment
Hymn 129 "Break Forth O Beauteous Heavenly Light"
Scripture Lessons:
Jewish Scriptures:
Isaiah 61:1-2, 10-11
Epistle:
1 Thessalonians 5:16-24
The Celtic Allelulia!
Gospel:
Luke 1:26-38
Sermon
Hymn
"Lo How a Rose E'er Blooming"
OUR RESPONSE TO GOD
*The Offering, Doxology (625) and Prayer
PRAISE GOD FROM WHOM ALL BLESSINGS FLOW;
PRAISE GOD ALL CREATURES HERE BELOW;
PRAISE GOD ABOVE YE HEAVENLY HOSTS;
PRAISE FATHER (CREATOR), SON (CHRIST) AND HOLY GHOST. AMEN.
A Time of Giving Thanks & Praise
The Prayer of the People & the
Lord's Prayer
*Hymn 125
"Joy to the World"
*The Benediction
*Choral Response
Postlude
*Please stand if you are able.
We need YOU at 1:30 PM next Saturday, December 20 to help set up the Living Nativity! Please come and help, next Saturday, in this important witness to our community!!! Thank you!

Please join us for Christmas Eve Candlelight service of Lessons and Carols, December 24th at 9:00 PM!

A great big THANK YOU to the Friends of Historic New Utrecht, Brian Worsdale, the North Shore Pops and all our neighbors and friends for coming out to celebrate the holiday at last night's concert!