16 Nov. 2008 Bulletin
Stewardship Sunday (continued)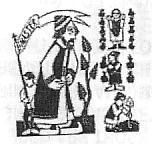 OUR APPROACH TO GOD
Prelude
Introit "In This Quiet Moment"
Welcome
Call to Worship: Psalm 91
He who dwells in the shelter of the Most High, will rest in the shadow of the Almighty.
I WILL SAY OF THE LORD, GOD IS MY REFUGE AND MY FORTRESS, MY GOD IN WHOM I TRUST.
You will not fear the terror of night, nor the arrow that flies by day.
WE WILL CALL UPON GOD AND GOD ANSWERS US; GOD IS WITH US IN TROUBLE; GOD WILL DELIVER US AND HONOR US. WITH LONG LIFE GOD WILL SATISFY US AND SHOW US HIS SALVATION!
*Hymn 382 "Be Thou My Vision"
Let us be before our God in silence.
Unison Prayer: Psalm 84
BLESSED ARE THOSE WHOSE STRENGTH IS IN YOU, WHO HAVE SET THEIR HEARTS ON PILGRIMAGE. AS THEY PASS THROUGH THE VALLEY OF BACA, THEY MAKE IT A PLACE OF SPRINGS; THE AUTUMN RAINS ALSO COVER IT WITH POOLS. THEY GO FROM STRENGTH TO STRENGTH TILL EACH APPEARS BEFORE GOD IN ZION. HEAR OUR PRAYER, O LORD GOD ALMIGHTY, LISTEN TO US, GOD OF JACOB!
Kyrie (sung)
LORD, HAVE MERCY ON US.
CHRIST, HAVE MERCY ON US.
LORD, HAVE MERCY ON US.
A Word of Assurance
The Summary of the Law
(Mark 12:29b-31)
This is the first commandment:
HEAR O ISRAEL,
THE LORD OUR GOD,
THE LORD IS ONE!
THEREFORE YOU SHALL LOVE THE LORD YOUR GOD
WITH ALL YOUR HEART,
WITH ALL YOUR SOUL,
WITH ALL YOUR MIND,
AND WITH ALL YOUR STRENGTH.
This is the second commandment:
YOU SHALL LOVE YOUR NEIGHBOR AS YOURSELF.
There is no greater commandment than these.
Anthem "Love Divine, All Loves Excelling" J. Zundel
THE WORD OF GOD
*Responsive Reading:
Psalm 128:1-5
*Gloria Patri (Hymn No. 623)
GLORY BE TO THE FATHER
AND TO THE SON
AND TO THE HOLY GHOST.
AS IT WAS IN THE BEGINNING,
IS NOW AND EVER SHALL BE,
WORLD WITHOUT END,
AMEN, AMEN!
The Greeting of Peace
Announcements & Children's Moment
*Hymn 281 "The Bond of Love"
Scripture Lessons:
Jewish Scriptures:
Proverbs 31
in memory of Adele Federico
Epistle:
1 Thessalonians 5:1-6
The Celtic
ALLELUIA!
Gospel:
Matthew 25:14-30
Sermon "Out of Fear, We Bury It"
OUR RESPONSE TO GOD
*Hymn "We Give Thee But Thine Own"
The Offering
*Doxology (625) and Prayer
PRAISE GOD FROM WHOM ALL BLESSINGS FLOW;
PRAISE GOD ALL CREATURES HERE BELOW;
PRAISE GOD ABOVE YE HEAVENLY HOSTS;
PRAISE FATHER (CREATOR), SON (CHRIST) AND HOLY GHOST. AMEN.
Giving Thanks to God
The Prayer of the People & the
Lord's Prayer
*Hymn BB 522 "Lord Whose Love In Humble Service"
*Benediction
Choral Response
Postlude "Hymn Medley"
*Please stand if you are able.
The flowers gracing the altar are given to the glory of God in loving memory of my beloved sister, Virginia M. Barning, brother Charles Zeltman and dear friend, Van Zandt Ellis by Lucille L. James.