30 Sept. 2007 Bulletin
24th Sunday in Ordinary Time
OUR APPROACH TO GOD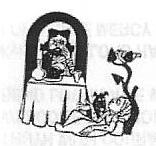 Prelude
Introit "In This Quiet Moment"
Welcome and Call to Worship: Psalm 33 & Tobit 13
Shout joy to the Lord, lovers of justice!
HOW RIGHT IT IS TO PRAISE GOD!
For the word of God is true: what God says, God does!
THIS LOVER OF TRUTH AND JUSTICE FILLS THE EARTH WITH LOVE!
Match your praise to all God has done for you.
BLESS THE LORD OF JUSTICE, WHO RULES FOREVER!
*Hymn 34 "The God of Abraham Praise"
Let us be before our God in silence.
"There is nothing so much like God in all the universe as silence." Meister Eckhart
Unison Prayer: Psalm 15 & 5
LORD, WHO IS WELCOME IN YOUR HOUSE? WHO CAN REST ON YOUR HOLY MOUNTAIN? THOSE WHO WALK WITH INTEGRITY AND DO ONLY WHAT IS RIGHT, SPEAKING TRUTH WITH COURAGE...THESE ARE THE JUST: THEY STAND FOREVER UNSHAKEN…YOU NEVER WELCOME EVIL, GOD, NEVER LET IT STAY...BY YOUR GREAT MERCY I ENTER YOUR HOUSE AND BEND LOW IN AWE WITHIN YOUR HOLY TEMPLE.
Kyrie (sung)
LORD HAVE MERCY UPON US.
CHRIST HAVE MERCY UPON US.
LORD HAVE MERCY UPON US.
A Word of Assurance: A Word of Assurance: 1 John 2:19, 20, 24
When we love others, we know that we belong to the truth & we feel at ease in the presence of God. But even if we don't feel at ease in the presence of God, God is greater than our feelings. God knows everything. Dear friends, if we feel at ease in the presence of God, we will have the courage to come near to God. He will give us whatever we ask, because we obey God & do what pleases God. God wants us to have faith in His Son Jesus Christ & to love each other. This is also what Jesus taught us to do.
The Summary of the Law (Mk 12:29-31)
This is the first commandment:
HEAR O ISRAEL,
THE LORD OUR GOD,
THE LORD IS ONE!
THEREFORE YOU SHALL LOVE THE LORD YOUR GOD
WITH ALL YOUR HEART,
WITH ALL YOUR SOUL,
WITH ALL YOUR MIND,
AND WITH ALL YOUR STRENGTH.
This is the second commandment.
YOU SHALL LOVE YOUR NEIGHBOR AS YOURSELF.
There is no greater commandment than these.
Anthem "Jesus, Thou Joy of Loving Hearts" H. Baker
THE WORD OF GOD
*Responsive Reading: Psalm 146:7-10
*Gloria Patri (Hymn No. 623)
GLORY BE TO THE FATHER
AND TO THE SON
AND TO THE HOLY GHOST.
AS IT WAS IN THE BEGINNING,
IS NOW AND EVER SHALL BE,
WORLD WITHOUT END, AMEN, AMEN!
The Greeting of Peace
Announcements & Children's Moment
*Hymn 517 "I'd Rather Have Jesus"
Jewish Scriptures: Amos 6:1a, 4-7
Epistle: 1 Timothy 6:11-16
The Celtic Allelulia!
Gospel: Luke 16:19-31
Sermon
OUR RESPONSE TO GOD
*Hymn BB "The Lord Hears the Cry of the Poor"
*The Apostles' Creed
The Offering *Doxology (625) and Prayer
PRAISE GOD FROM ALL WHOM ALL BLESSINGS FLOW;
PRAISE GOD ALL CREATURES HERE BELOW;
PRAISE GOD ABOVE YE HEAVENLY HOSTS;
PRAISE FATHER (CREATOR), SON (CHRIST) AND HOLY GHOST.
A Time of Giving Thanks & Praise
The Prayer of the People & the Lord's Prayer
* Hymn BB "Jesu, Jesu"
* Benediction
Postlude
* Please stand if you are able.
The flowers gracing the altar are given to the glory of God in loving memory of our beloved parents, Josephine & Henry and all Safay Family loved ones.
Next week is World Wide Communion Sunday ---please join us as we share the sacrament of the table. Remember to join us on Saturday to march in the Columbus Parade! We begin at 65th and 18th Ave at 1 PM. If you have photos of life at NURC, Terry would like to borrow them for a presentation she is working on.