16 Sept. 2007 Bulletin
24th Sunday in Ordinary Time
OUR APPROACH TO GOD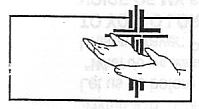 Prelude
Introit "We Have Come into This House"
Welcome! Call to Worship: Psalm 19:1-6
The heavens are telling the glory of God;
AND THE FIRMAMENT PROCLAIMS HIS HANDIWORK.
Day to Day pours forth speech
AND NIGHT TO NIGHT DECLARES KNOWLEDGE.
There is no speech, nor are there words;
THEIR VOICE IS NOT HEARD;
Yet their voice goes out through all the earth,
AND THE WORDS TO THE END OF THE WORLD.
In the heavens God has set a tent for the sun,
WHICH COMES OUT LIKE A BRIDEGROOM FROM HIS WEDDING CANOPY,
And with strength runs its course with joy.
ITS RISING IS FROM THE END OF THE HEAVENS
And its circuit to the end of them;
AND NOTHING IS HIDDEN FROM ITS HEAT!
*Hymn 416 "Come Ye Disconsolate"
Let us be before our God in silence.
"What do we want most to dwell near to?" --Henry David Thoreau
Unison Prayer: Psalm 28
TO YOU, O LORD, I CALL; MY ROCK, DO NOT REFUSE TO HEAR ME...HEAR THE VOICE OF MY SUPPLICATION, AS I CRY TO YOU FOR HELP, AS I LIFT MY HANDS TOWARD YOUR MOST HOLY SANCTUARY.
Kyrie (sung)
LORD HAVE MERCY UPON US.
CHRIST HAVE MERCY UPON US.
LORD HAVE MERCY UPON US.
A Word of Assurance and The Summary of the Law (Mk 12:29-31)
This is the first commandment:
HEAR O ISRAEL,
THE LORD OUR GOD,
THE LORD IS ONE!
THEREFORE YOU SHALL LOVE THE LORD YOUR GOD
WITH ALL YOUR HEART,
WITH ALL YOUR SOUL,
WITH ALL YOUR MIND,
AND WITH ALL YOUR STRENGTH.
This is the second commandment.
YOU SHALL LOVE YOUR NEIGHBOR AS YOURSELF.
There is no greater commandment than these.
Anthem "I Heard the Voice of Jesus Say" J. Dykes
THE WORD OF GOD
*Responsive Reading: Psalm 51:1-12
*Gloria Patri (Hymn No. 623)
GLORY BE TO THE FATHER
AND TO THE SON
AND TO THE HOLY GHOST.
AS IT WAS IN THE BEGINNING,
IS NOW AND EVER SHALL BE,
WORLD WITHOUT END, AMEN, AMEN!
The Greeting of Peace
Announcements & Children's Moment
Hymn "Amazing Grace"
Jewish Scriptures: Jeremiah 4:11-12; 22-28
Epistle: 1 Timothy 1:12-17
The Celtic Allelulia!
Gospel: Luke 15:1-32
Sermon
OUR RESPONSE TO GOD
*Hymn "Softly and Tenderly, Jesus is Calling"
The Offering
*Doxology (625) and Prayer
PRAISE GOD FROM ALL WHOM ALL BLESSINGS FLOW;
PRAISE GOD ALL CREATURES HERE BELOW;
PRAISE GOD ABOVE YE HEAVENLY HOSTS;
PRAISE FATHER (CREATOR), SON (CHRIST) AND HOLY GHOST.
A Time of Giving Thanks & Praise
The Prayer of the People & the Lord's Prayer
* Hymn 68 "There's a Wideness in God's Mercy"
* Benediction
*Response to the Benediction
Postlude
* Please stand if you are able.
The flowers gracing the sanctuary are given to the glory of God in loving memory of Daniela Notaro and Bridget Esposito who lost their lives on 9/11 from Debbie and Charlie Siciargo, as they celebrate their 36 years of marriage!
I acknowledge the scholarship and ideas of William Barclay and Joseph Pollard of the book Fresh Light in this sermon.