The Church Sanctuary

New Utrecht Reformed Church is one of the original churches of the Reformed Church in America and was established in 1677. The first church building was constructed in 1700 at Main Street (now 84th Street, also Liberty Pole Boulevard) just off 16th Avenue, on the site now occupied by the Metropolitan Baptist Church and right next to the New Utrecht Cemetery. The original church was an octagonal-shaped building with a tall spire. During the American Revolution (1775-1783) the British used it as a hospital and as a riding school. The present church sanctuary, using the stones from the original church, was built in 1828-29 at 18th Avenue and 84th Street (also Liberty Pole Boulevard).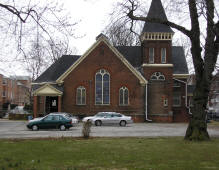 This church, built in Gothic Revival style, was one of the first buildings to be officially declared a landmark by the New York City Landmarks Preservation Commission on March 15, 1966 and both the church and the cemetery are listed in the National Register of Historic Places.
An expanded landmark site, designated in 1998, includes the Parish House, built in 1892 and the Liberty Pole (see below).
The former Parsonage was built on the church grounds in 1906.
The Liberty Pole
The Liberty Pole was first constructed in 1783 at the end of the American Revolution by the inhabitants of the Town of New Utrecht to commemorate their liberation from and withdrawal of British troops. The present pole, the sixth to be placed in front of the present church and exhibited during the 1939-40 World's Fair, was erected on the church grounds in 1946 and is the only Liberty Pole remaining in the original thirteen United States. An annual commemoration of the Liberty Pole, Liberty Weekend, take place in late May or early June each year, commemorating the anniversary of the erection of the first Liberty Pole.
More information on the history of New Utrecht Reformed Church and the Town of New Utrecht can be found at Friends of Historic New Utrecht and the New Utrecht Liberty Pole Association.