4 Oct. 2009 Bulletin
World Wide Communion Sunday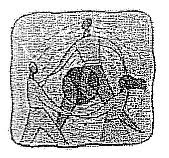 OUR APPROACH TO GOD
Prelude
Introit "Come Celebrate Jesus"
Welcome and Call to Worship: Ps 50:1, Isaiah 2:21; Ps 96
The mighty one, God the Lord,
SPEAKS AND SUMMONS THE EARTH
In the final days the temple will tower about the highest hills and mountains.
ALL NATIONS WILL STREAM TOWARD IT.
Tell the nations, 'The Lord rules!"
LET HEAVEN AND EARTH BE GLAD!
Let sea and sea creatures roar,
LET THE FIELD AND ITS BEASTS EXULT!
*Hymn 43 "Great is Thy Faithfulness"
Let us be before our God in silence.
Unison Prayer: Ps 80
RESTORE US, O GOD OF HOSTS; LET YOUR FACE SHINE, THAT WE MAY BE SAVED. YOU BROUGHT A VINE OUT OF EGYPT; YOU DROVE OUT THE NATIONS AND PLANTED IT. YOU CLEARED THE GROUND FOR IT; IT TOOK DEEP ROOT AND FILLED THE LAND...TURN AGAIN, O GOD OF HOSTS; LOOK DOWN FROM HEAVEN; AND SEE; HAVE REGARD FOR THIS VINE, THE STOCK THAT YOUR RIGHT HAND PLANTED.
Kyrie (sung)
LORD HAVE MERCY UPON US.
CHRIST HAVE MERCY UPON US.
LORD HAVE MERCY UPON US.
A Word of Assurance and the Summary of the Law
(Mark 12:29-31)
This is the first commandment:
HEAR O ISRAEL,
THE LORD OUR GOD,
THE LORD IS ONE!
THEREFORE YOU SHALL LOVE THE LORD YOUR GOD
WITH ALL YOUR HEART,
WITH ALL YOUR SOUL,
WITH ALL YOUR MIND,
AND WITH ALL YOUR STRENGTH.
This is the second commandment.
YOU SHALL LOVE YOUR NEIGHBOR AS YOURSELF.
There is no greater commandment than these.
Anthem "Break Thou the Bread of Life" W. Sherwin
THE WORD OF GOD
*Responsive Reading:
Psalm 148
*Gloria Patri (Hymn No. 623)
GLORY BE TO THE FATHER
AND TO THE SON
AND TO THE HOLY GHOST.
AS IT WAS IN THE BEGINNING,
IS NOW AND EVER SHALL BE,
WORLD WITHOUT END, AMEN, AMEN!
The Greeting of Peace
Announcements & Children's Moment
Jewish Scriptures/Apocryphal Reading:
Sirach 4:1-10
Epistle:
1 Corinthians 12:12-13
The Celtic Allelulia
Gospel:
Mark 8:1-9
Communion Meditation "We Are For The World"
Resource:
"State of the Earth 2010,"
National Geographic Earth Pulse
OUR RESPONSE TO GOD
Hymn BB 414 "Prayer of St. Francis"
*The Apostles' Creed
The Offering *Doxology (625) and Prayer
PRAISE GOD FROM ALL WHOM ALL BLESSINGS FLOW;
PRAISE GOD ALL CREATURES HERE BELOW;
PRAISE GOD ABOVE YE HEAVENLY HOSTS;
PRAISE FATHER (CREATOR), SON (CHRIST) AND HOLY GHOST.
The Invitation to the Table
* Hymn 354 "One Bread, One Body" vs. 1
The Communion Prayer
The Breaking of the Bread
The Great Thanksgiving
& the
Lord's Prayer
*Hymn 64 "All Creatures of Our God and King"
*Benediction
*Choral Response
Postlude
*Please stand if you are able.
The flowers gracing the altar are given to the glory of God in loving memory of my beloved father, Sal Troia, in honor of my family in Sicily whom I met for the first time a year ago this week and in the hope of world peace and to poverty and human suffering this World Communion Day.